As caretakers of 70 acres of land, Prairiewoods' staff is committed to offering facilities that use alternative energy sources, a sustainable treatment of the land, conservation of natural resources and other earth-friendly practices. The U.S. Green Building Council awarded Prairiewoods LEED® (Leadership in Energy & Environmental Design) Gold certification for existing buildings. We are the first nonprofit in Iowa with that honor!
The following is a list of some of the green features that led to Prairiewoods' LEED certification:
A holistic land management approach includes prairie and woodland restoration efforts.
Eco-friendly architectural design melds buildings into existing natural landscape.
Conservation of large trees around buildings provides shade and enhances aesthetic beauty.
Berming around structures assists with insulation and noise pollution abatement.
Solar tubes and large windows light spaces naturally.
Compact fluorescent lights and LED lights create efficient lighting.
Low-flow toilets conserve water.
Energy-efficient appliances reduce energy consumption.
Retention ponds allow for responsible drainage of storm water and provide aquatic habitat.
Green-cleaning practices and avoidance of pesticides reduce our chemical impact on humans and the environment.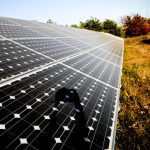 Main Center
100 solar modules (17,500-watt system capable of generating 22,500 kilowatt hours of electricity in one year) are tied into the electrical grid and provide about 45 percent of our electricity.
Solar tubes in the restrooms and hallways bring natural light and reduce electricity usage.
Guest House
Solar hot water system provides hot water for showers, laundry and other uses.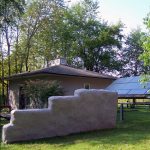 Hermitages
Straw-bale construction enhances insulation and models bio-friendly, recyclable housing options.
Solar panels provide all electrical power, allowing these buildings to be independent of the electrical grid.
Radiant floor heating provides heat for the buildings.
Wetland septic system recycles all waste and grey water.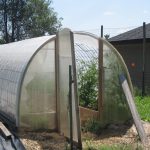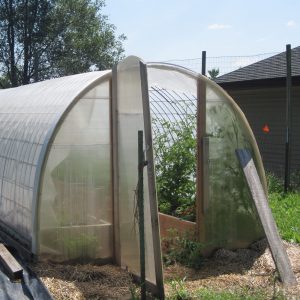 Garden
Kitchen garden provides guests with locally-grown fruits, vegetables and herbs.
Solar hot water system provides heat for year-round gardening in our hoop house.
Root cellar provides natural cold storage.
Composting reduces our landfill waste and returns nutrients to the earth.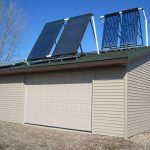 I-Renew Training Facility
Solar power allows this building to be independent of the electrical grid.
Classroom setting provides hands-on educational opportunities for installing roof-top solar photovoltaic panels and solar hot water systems.
Residence
Trombe wall provides passive solar heating for two apartments.
Prairiewoods and I-Renew Collaborate
I-Renew and Prairiewoods joined forces to create the Iowa Renewable Energy (I-Renew) Installation Training Center on Prairiewoods' grounds. I-Renew received a $50,000 grant from the Iowa Power Fund Community Grants Program through the Office of Energy Independence to fund the construction of a building featuring a solar array roof and solar thermal water heater.
The facility is located on Prairiewoods' grounds near our kitchen garden. Groundbreaking was held July 21, 2010, at Prairiewoods. Iowa Governor Chet Culver, local politicians, and members of the Prairiewoods and I-Renew boards were on hand to break ground on this green endeavor.
The I-Renew Training Facility allows advanced training within a controlled setting for the hands-on education of renewable energy installers who want to obtain professional certification in their selected field.
To learn more, visit www.IRenew.org.