Prairiewoods Franciscan Spirituality Center opened its doors in July of 1996 as a ministry of the Franciscan Sisters of Perpetual Adoration of La Crosse, Wisconsin. The land had been purchased years earlier by the community.
The foundational vision for this center, with its 30 acres of prairie and 40 acres of woodlands, is the integration of spirituality and ecology based on the new story of the universe and the writings of Thomas Berry, Brian Swimme and similar authors.
Also at work in the development of the underlying philosophy is the Franciscan concept of the immanence of God in the created world. Francis, who valued the natural world as "a place where God is revealed," encouraged his followers by his own unique celebration of creation.
With this basis in mind, six FSPA community members spent a year in study and discussion before creating a workable philosophy. They spent time on the land itself in order to learn from the sacred manuscript of nature. As they made practical plans for the new center, they determined that all decisions made in the development of the property would be based on environmental principles.
The construction of the main Center Building, Guest House and Staff Residence included such ecological features as the use of natural materials, insulating berms around buildings and renewable energy wherever possible. The founding sisters established a schedule for gradual restoration of prairie sites and ecological practices meant to protect the environment.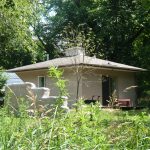 A later development was the construction of two comfortable straw-bale hermitages near the woods for those desiring more solitude. There, solar-powered electricity and radiant floor heating are models of environmental sustainability. A bank of 40 solar photovoltaic panels was added during the summer of 2009, and another 60 modules were added in the summer of 2010. These 100 solar panels are rated as a 17,500-watt system capable of generating 22,500 kilowatt hours of electricity in one year. These solar PV panels provide about 45 percent of the electricity used at Prairiewoods and are tied into the electrical grid.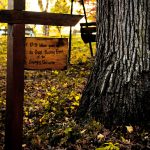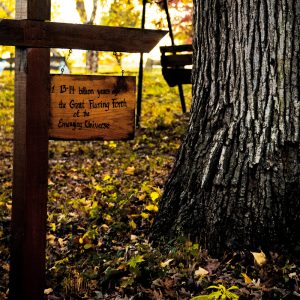 The two-and-a-half miles of trails through the woods include a Cosmic Walk that highlights major "moments of grace" in our 14-billion-year evolutionary journey. Our Media Center offers an unusual collection of books, videos and recordings supporting an ecologically-based spirituality and expanding on aspects of The Universe Story. Resources of a more traditional nature also are available.
Each year a major speaker is engaged to offer a conference on a topic related to the theme of "Spirituality in the 21st Century." These outstanding presenters of the past are John Shea; Joyce Rupp, OSM; Diarmuid O'Murchu; Wayne Teasdale; Joe Nassal; Elaine Prevallet, SL; Marcus Borg; John Haught; Ilia Delio, OSF; Michael Morwood; Barry Donaghue, CFC; Sara Thomsen; Barbara McAfee; Peter Block; John McNight; and Walter Brueggemann. These events, as well as other programs at Prairiewoods, have drawn participants from a broad area in the Midwest as well as from both coasts.
In the establishment of Prairiewoods, the Franciscan sisters hoped to provide a place for the gathering and connecting of the faith community. We welcome people of all religious and ethnic backgrounds to make this center a spiritual base where dialogue around issues of faith and the environment can be held.
Prairiewoods has been featured in several books, including Sustainability and Spirituality by James Carroll, Renewing the Countryside edited by Shellie Orngard and Jan Joannides, and America's Climate Century by Senator Rob Hogg.