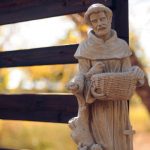 Prairiewoods Franciscan Spirituality Center is a sacred space where people of all faiths and cultures are invited to explore and nurture their relationships with the Source of all Being, Earth, Self and Others, with an increasing awareness of the story of the Universe. Prairiewoods is sponsored by the Franciscan Sisters of Perpetual Adoration, a Catholic community.
The vision of Prairiewoods is of people everywhere, awakened in consciousness and energized by the loving, creative Spirit of the Universe into a community, moving together into wisdom, compassion and the fullness of life.
Our Franciscan Heritage calls us to:

integrate the principles of the universe: Interiority, diversity and communion as a basis for all decision making.
reverence the Divine Presence within all creation, including in each member of the Earth Community.
provide programs and opportunities for ongoing personal transformation for the development of wisdom and compassion.
encourage care for the earth through our practices, programs, retreats and outreach.
collaborate with others in developing programs that enhance spiritual deepening and impact greater ecological consciousness.
celebrate the privilege of being human.
provide sanctuary and rest, a place where each individual is welcomed with warm hospitality and respect.
encourage dialogue among various faith traditions to promote respect and cooperation.
continue involvement with the broader community around sacred values.